Post by leapnlineman on Oct 1, 2011 19:21:34 GMT -1


Today we had 7 volunteers out to cut trees to add to the habitat of the lake. They were:
Ranger520vx (Cliff)
Tinker1 (Russ)
scarter1996 (Steve)
mmoorebb5 (Matt)
Waldenjg (Jason)
dannyp (Danny-who else)
leapnlineman (Ray)
We met at Red Top Ramp @ 9AM as planned and began with the paperwork, then held a safety briefing and then we started making up new cables:
Matt & Danny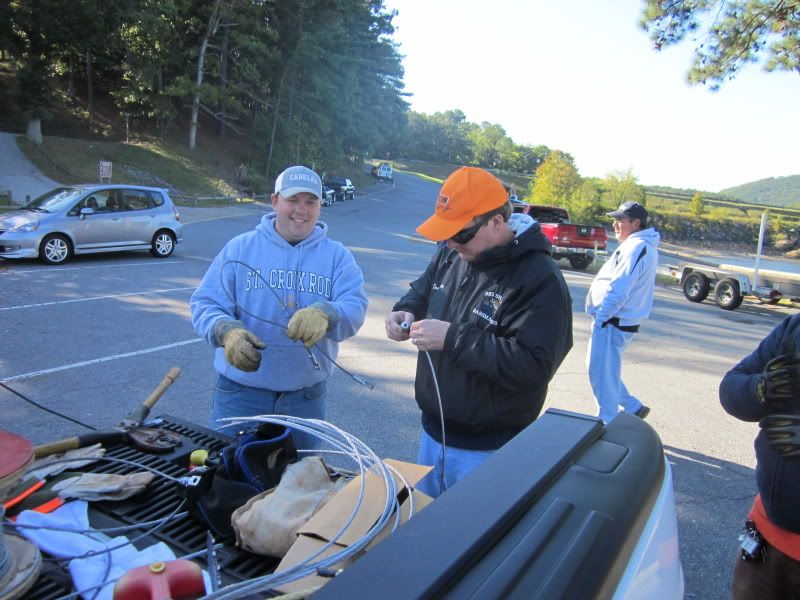 Cliff & Danny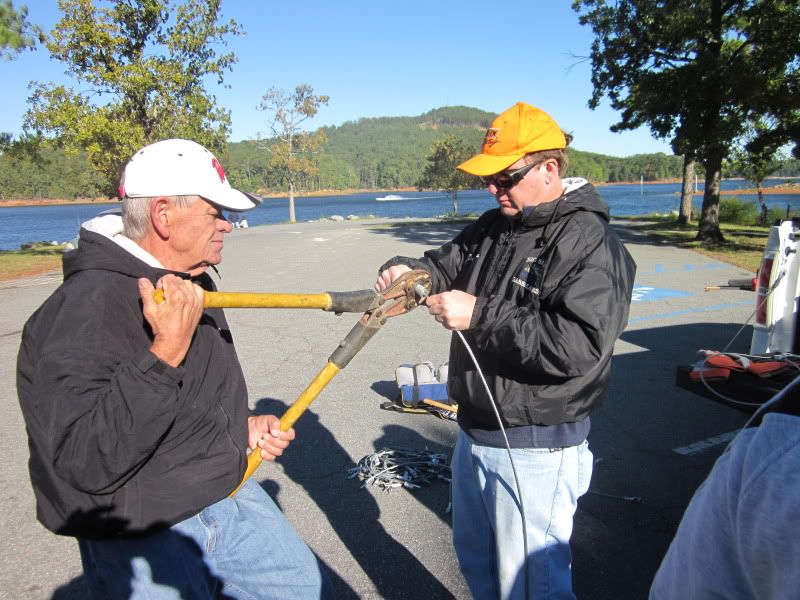 Jason & Matt
We then loaded up the boats with the cables and saws and proceeded out onto the lake for the trip to the coves to be cut. We cut 3 different coves today and had a fun time doing it.
We totaled putting 45 new fish condos in the lake for us all to enjoy fishing.
I can tell you now that I feel this was quite an accomplishment today due to the windy conditions. Fact of the matter is I almost called the cutting off when Danny called me early this morning to say that the wind was howling on the lake. You see it can be difficult to cut the trees if the wind blows the tree back onto your saw blade when you are cutting. But we covered that condition in our safety briefing and everyone did a good job of bypassing some trees that we would have liked to cut, but due to the wind blowing on them from the wrong direction we couldn't.
And since we were an odd number with 7, Russ struck out on his own but kept in sight of us so we could see his handy work. Here's 3 pictures of him all taken at the same location.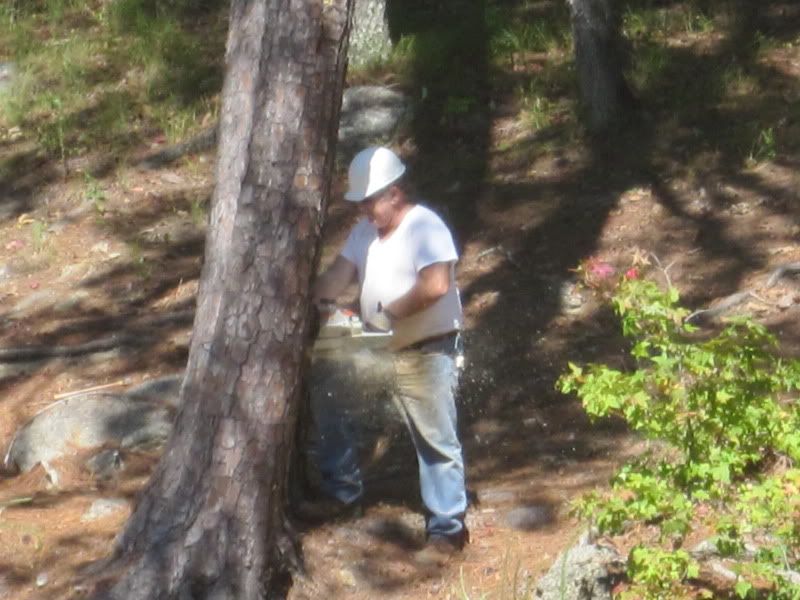 And we did have some that the cables were needed on today. Danny took care of the ones I cut that came completely detached as well as this one that somebody out side our forum cut sometime in the past and did not secure.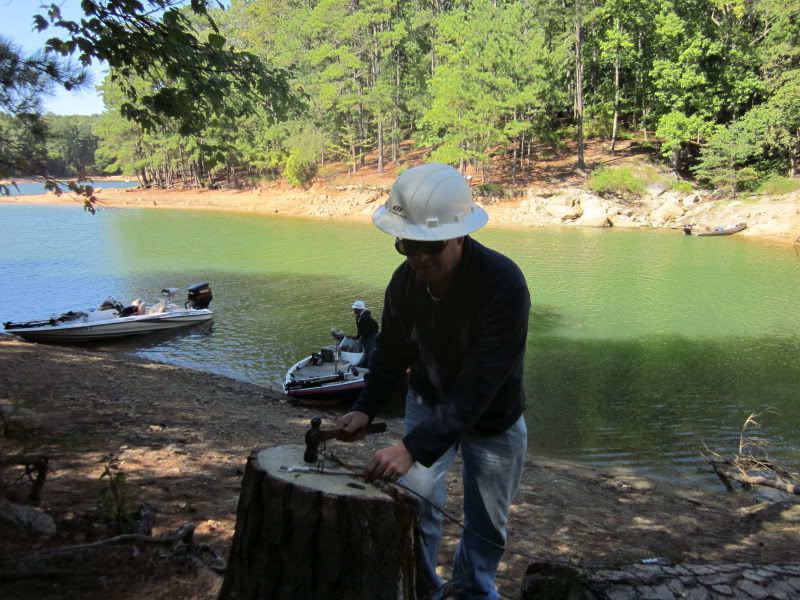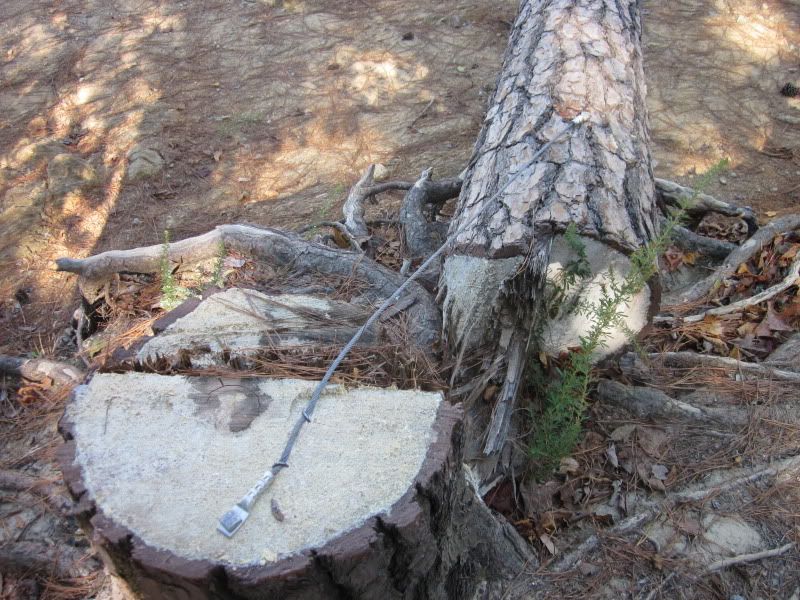 Jason can get mean with a saw once you get him started

: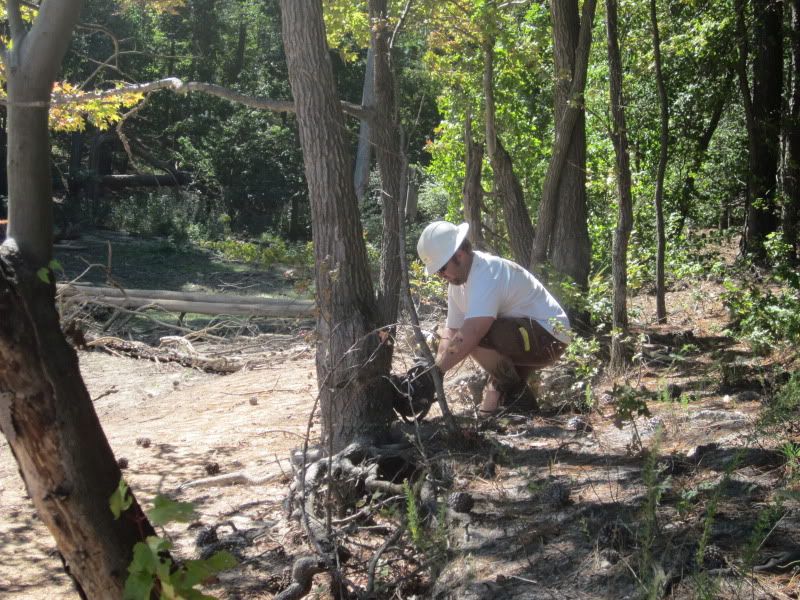 Now let me tell you we have a newly named cove on the lake as the first cove we cut shall forever more be known as
"CLIFF'S COVE"
. You see don't let the snow on top of Cliff's head fool you, because I am convinced that he is kin to a rabid beaver. And before we could turn around he had cleared
CLIFF'S CLIFF
in
"CLIFF'S COVE"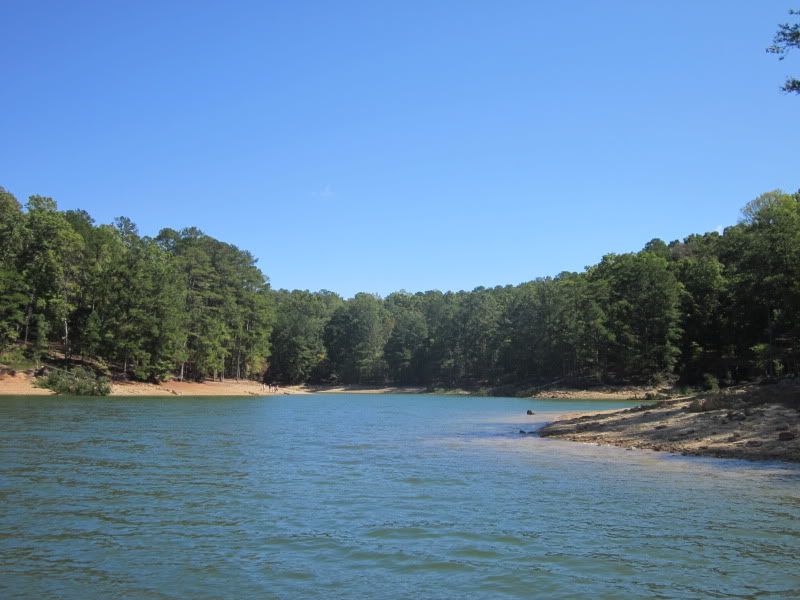 Yes Sir that Cliff is a tree cutting machine!!!!!!!!!!!!!!!!!!!
Here are a few more pictures of some of the other places we were at today. And I want to thank all that came out to help today as I thoroughly enjoyed it and appreciate your hard work and time .