Post by Mike Bucca on Mar 28, 2009 11:45:18 GMT -1
Water Temp 58
Water Level .97 feet low
Water Clarity Clear/stained
Well I was holding off on a report due to the tournament so here goes. Fishing has been pretty darn good for the quality fish and I was actually looking forward to this tournament because I was on some pretty solid fish. Like Matt, I like ripping a hole in all my tournament fish before the tournament and now that the tournament is cancelled I'm glad I did

Nothing big but some good quality fish have been very easy to come by.
The old motto 90% of the fish are in 10% of the lake is holding true. If you find the bait it's not a matter of if the fish will be there but when and the key is to keep moving until you find them. So if you find bait and no fish keep checking back they will be there.. If you have the trolling motor down for more than 10 minutes you need to move faster (think run and shoot here is the best way to describe it to find those extremely active schools of fish just busting shad on top). Once you find them it's like throwing to a school of pirhana. Several of my days out I easily had 13lbs per day and thats without any kickers or hitting any of my big fish areas. TO the best of my knowledge I haven't seen any spawning movement as of yet and I have been looking (not looking hard but I am looking) and with this rain approaching us I'm pretty certain we probably won't have a very good spawn this year due to fluctuating water levels but I am optimistic...
I'm doing alot of damage on my modified 10.5 in Triple Trout, Bull Shad and sprinkle in some Sammy 105, G Splash and Dr. Spots Spinnerbaits for good measure in and around bait. If White bass is your thing they are THICK above Victoria. Billy King and myself caught probably 30 white bass in an hour on spoons and we left them biting. It was one of those deals where you drop the spoon on an empty sonar and as your spoon drops it blacks out completely with fish fighting over your spoon.
Here are some pics from this week. First is a 10lb striper that I almost swore was my 10lb bass I have been looking for because I caught her 10ft from where I got my 9lber last year
. Thats a 10.5 inch Triple Trout in her mouth LOL.
Here is Billy with his first Swimbait fish on a 6 inch Triple Trout.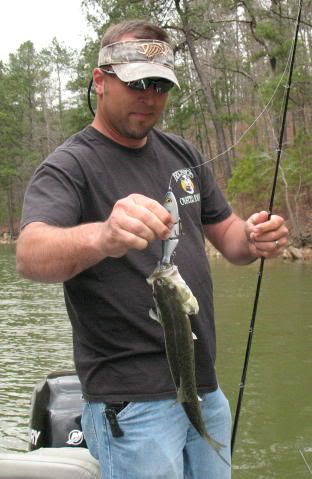 Here is a few from our stringer same day