Post by Mike Bucca on Apr 13, 2009 12:34:52 GMT -1
Water Temp: 60
Water Level: .63ft above
Water Clarity Clear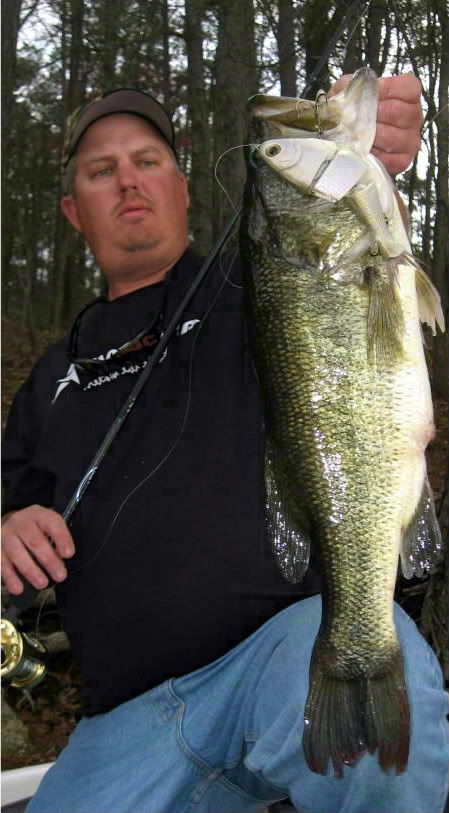 Fishing is Fair: As of right now we are finally fairly clear throughout the whole lake. Earlier in the week the largemouth have gotten closer and closer to being on the bed. Yesterday I saw a good bit of males up and shallow gaurding the bed with females still off to the side and roaming in the vicinity. I would have to bet that with todays full moon we got a bunch of fish moving shallow but it was tough to tell with the winds we had today.
I did find 2 good fish very close to being locked on the beds yesterday and one of them is pictured. I figured by this morning she would be locked on and gaurding heavily. I didn't sight fish her though I got to the area early and just bombed the area with swimbaits and I got her to commit on the very first cast to her roaming range. The other fish I found is a BEAST!! I got her to follow yesterday but couldn't get her this morning. She's a smart fish and due to her location there was no way I could set up on her and get her to committ. Right now just concentrate on spawning areas at first light to for the shot at getting a big largemouth to commit. After that it's a site fish deal. Thats the most consistant pattern going.
Now for the spots. It's not easy out there. Every bass guide I have talked says it has been tough. I have read a few of the comments on the forum and they are right about you needing to move around. There are certain areas that are producing and even with those they are hit and miss. But if you hit the right area at the right time you can catch 2 GOOD limits very quickly and it doesn't make much difference what you throw when they are busting like that on top. But you guys are right this isn't normal. When you have adverse conditions that our fish aren't used to like alot of water they fish tend to turn off. With water temps in the low 60's traditionally it's balls to the wall in numbers and quality. The old adage too much of anything (water) is too much. The good news is later this week (pending normal weather) it should get back to normal as we get away from the full moon.
But the sonar picture below is what I have found happening ALOT as I saw this type of picture ALL day everyday for the last week or so. When the bite is tough usually your sonar will tell you or give you clues to what is happening. If they aren't hitting finesse baits and they aren't chasing subsurface baits the only place they can be is deep and suspended and that is where they are. Even these fish pictured are no cake walk to catch.