Post by Mike Bucca on Dec 17, 2009 1:07:34 GMT -1
Water Temp: 51
Clarity: pristine
Weather: purfect
Been a while since I have done a report.. Decided to take a break from the Bull Yard and go to Carters.
I fished from sun up to sun down and the bite was great and it stayed chilly the entire day. I threw the fly about 80% of the time and got all but one on the fly. I got about 15 or so fish. All 18 inches plus... I didn't see a dink all day. ;D
I had a bunch of firsts today. Saw my first 7.5lb + spot. I compared it to the 5lb spot I got and she just dwarfed it not even close. No I didn't catch her but that was a sight to behold and one I will never forget. I was reeling in one of them dink 3lbers and this whale of a spot was trying to take the "spot sushi" fly away from my dink. She rammed that 3lber 3 times and I felt everyone of them. I saw that fish clear as day and she was as long as my leg. By far the biggest spot I have ever seen in my 30 years of fishing for spots. I had the shakes for about an hour.. All I can say is WOW that was a SPOT...
2nd 1st I got 2 4lbers and 1 5lber on back to back to back cast dude I was pooped after those 3 fish. and on the 4th cast (another first) was I had a brute of a spot hit my CORK!! I mean tanked it off the surface and took it under for over 10 seconds. All I could do was just sit there and hope she saw the fly on the other end of my line LOL. Might have to jury rig a cork with a hook somehow if that happens again LOL.
15 or so fish for the day and I didn't want to leave. All caught on the Georgia Tackle "Spot Sushi" colored fly. Caught all these fish on the one fly and never lost a fly the entire day. I was using 8lb Power Pro yeller, 6lb Triple Fish fluorocarbon for a leader. Leader lenght approximately 14-15ft (yeah they were deep)..
Fish pics from the [glow=red,2,300]"Spot Collector"[/glow]
I don't think I took a pic of the same fish twice... I had 6 fish total in the box..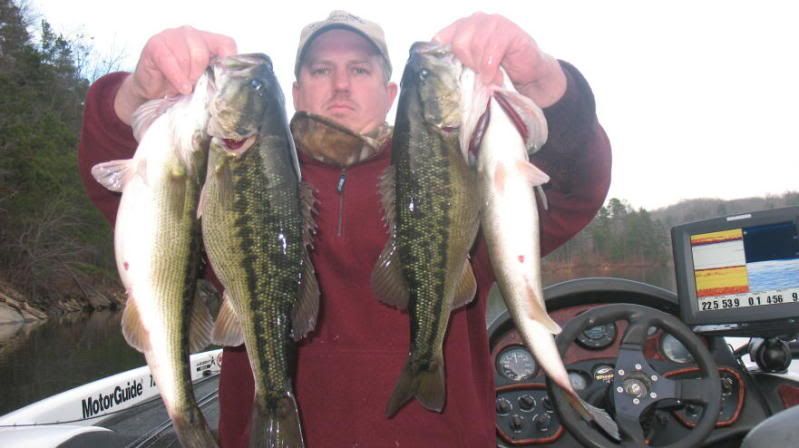 Will someone get this fish a napkin? She's got Spot Sushi on her lips ;D