Post by Mike Bucca on Dec 4, 2007 14:27:34 GMT -1
For starters this is a VERY LONG post. Better get you some Pop and chips and a comfortable chair.
I'm sure some of you have seen me responding on another site in defense of the Allatoona Corps of Engineers. I first want to say that if you have no first hand knowledge about a subject please be open to interpretation to someone who might have futher knowledge to help explain. I certainly don't have all the answers, but I have ways to find out those answers. I
personally won't tolerate anyone calling anyone foul names or calling anyone out on this forum if they ask a question or have input on a topic that they have knowledge of. I also have no problems with disagreements or someone being upset over something as long as it's done in a civil manner. After all we are all grown adults and we can always agree to disagree right?. I have taken some of my own time yesterday to do some research and I would encourage everyone else to do the same and see for yourself. I took a BUNCH of notes and asked the Corps a bunch of questions.
Lots of questions about where the ramp fees go to? The money that we pay for ramp usage and day use parks/beaches goes to keeping those parks open. The Corps have to pay to have the parks/beaches cleaned, utilities, maintenance (lights, new asphault, paint, plumbing, repairs, vandalism - increased
substantially the last few years I am told, signage, etc.), park attendant salaries, envelopes for honor vaults (SHEESH those envelope thingies are $0.14 EACH!), grass mowing, and employee salaries and the list goes on. One thing that I didn't realize is that a lot of parks actually cost more to maintain than they bring in, requiring the bulk of the CORPS budget to pay for everything. The modest $3.00-$4.00 fee (or $30.00 annual pass) helps supplement that budget. Also, they are the US ARMY Corps of Engineers. I didn't realize that money gets shifted away from parks and toward efforts in IRAQ. During times of war, the Dept. of Defense has to prioritize. It's more important to keep soldiers alive than for us to fish even though there's only one ramp open for EVERYONE to use. I'm glad to see that some of our money goes to supporting our troops overseas!! These guys deserve it alot more than we do!!
After funding the parks, they have to pay for the same logistical things as any business does, It includes, but not limited to vehicles for patroling, fuel, office supplies, etc. People don't realize that the CORPS also manages a "real estate" program with LOTS of leased areas and the entire 6,800 acre WMA as well as 26,000 acres of land. All the parks you see that are not Corps managed are leased from the CORPS. That includes Gatewood, Fields Landing, Red Top Mountain State Park, Allatoona Pass, ALL marinas, and many other areas. They have recently had to increase their fees to pay for time that they spend there as it mounts up FAST!!! With those increased fees, the marinas (who get a benefit from having the marina) are paying for the Corps' time instead of the taxpayers. In the winter, they tend to patrol the lakes less since they are less busy and focus more on these issues that take a backseat during the recreation season when it is busier. Most of the DNR officials concentrate more on the deer season for the simple point that people with guns throwing bullets takes priority ov er people throwing big swimbaits

>
When I was growing up through high school I was very passionate about hunting. My goal in life at the time was I wanted to be a game warden. I liked the idea of living on a WMA and managing it seems like a simple life. What more would a outdoorsman want? That was until I looked at the average salaries when I approached college and then that option got written off pretty quick. That brings me to my point. These guys are under paid and over worked and under budgeted. When you are in any line of work with those three or even 2 of those parameters you then encounter another one and thats
UNDER STAFFED and then there's UNDER APPRECIATED when you got complaints coming from all angles. I can attest dealing with the general public is a major pain. Everyone thinks there issue is more important than everyone elses and you simply cannot please everyone. My question is would any of you guys stay long at a job like this? You have to really enjoy your job to stay with this type of job. I hope this helps explain why EVERYONE doesn't see a DNR or CORPS guy when they are out on the lake.
I also asked about DNR coverage. Get this we have ONE DNR GAME WARDEN PER COUNTY and each sometime overlap 2 or 3 more counties!!!! It certainly doesn't mean they aren't out there if you don't see them? Doesn't mean they are out there either, but when you are understaffed you have to priortize the best that you can. Again, do keep in mind that fishing (and other
recreation) is not the Corps' highest priority. I know fishing is a higher priority for US but in the grand scheme of things it's not very important (I can't believe I said that but it's true LOL). Let me explain futher, As you are aware, Allatoona lake is part of a system and when streams below the dam don't get rain, they have to supplement from the lake to an extent in order to provide water for downstream navigation. You're talking shipping and BIG business as far downstream as Mobile. I personally can attest that there are huge ports in the Mobile area because I am from near that area. So without that water sent downstream, businesses close! The Allatoona, Ostanaula (sp?) and Coosa rivers here are managed by the Feds, rather than the state, because the rivers are part of a system that flows through mulitple states so they have to go through them to get alot of things done. One thing that I didn't realize is that this is a very complex system that people much smarter than you or me have to manage with difficult decisions to balance everyday. Too complicated for me to even understand when they tried to explain it to me much less type out and I would hate to have that kind of responsibility that effect the lives of millions of people. If more water downstream keeps a business alive and thousands of employees in jobs, it kind of puts things into perspective when we can't launch at our favorite ramp while other families might be suffering because of the lack of water downstream! Families are at stake and of course they consider our families as well, but also keep in mind the Corps and their families live here as well and have to suffer the same consequences that we have ie if we run out of water or our ramps close or whatever it might be.
The Corps mission statement is to manage and balance the resources for hydropower, flood control, recreation, water quality, water supply, fish and wildlife and navigation benefits for current and future shareholders. Key word there is "balance". Fishing and other recreation takes a backseat to more important issues on the lake where people have millions of $ invested in businesses (marinas, etc), developments (which encroach on the lake, have drainage near/on the lake), and not checking for miniscule things like tourney permits or launching fees. Sometimes we are our own worst enemy. The DNR and CORPS simply don't have time to baby sit boat ramps. We are grown
adults and we should be able to do things without a corps official present by following the rules set forth.
Tournament Permits are granted on a first-come, first-served basis. They're only denied if there's already a tourney going out at a ramp. The fee is to cover processing costs (time, mostly) again, because the permittee receives a "benefit" at the expense of taxpayers (or non-tournament fishermen). If you have more than a 9 boat tourney you need a permit. Having said that tourney permits are a very hard thing to enforce, but it's also a miniscule thing in the grand scheme of things as well and takes a back seat to more important issues as stated above in this post. Now a point was made that how do you know if someone has a tournament permit? You simply don't, but I will say that I have done seminars for quite a few bass clubs in and around Allatoona. I have spoken to Big Shanty, American Sweetwater, Linecreek, Red Top Bassmasters and a few others. All of these clubs have a constant problem and that is lack of members and they are always scrambling for members and that is why I put the BASS CLUB forum below to help them get more members. I would say the vast majority of these clubs don't have 9 or 10 boats at a tournament. So just because they have a tournament doesn't mean they have 9+ boats which doesn't require them to have a permit.
Here is a prime example post of that very incidence
forum.gon.com/showthread.php?t=153778
notice where jranger states they only had 6 boats for their tournament last Saturday and did not need a permit.
On to my enforcement questions. After asking a few questions I found that they spend TOO much time tied up in stupid little enforcement things like people cutting trees (one guy last year cut over 147 trees on CORPS property), fighting in parks, ATVs riding destroying the lakebed (including vegetation fish may use for structure) and leaking fluids into streams - Which I have been told is HIGHLY prevelant the last 5 years and is very high priority, trucks getting stuck, gates being cut or damaged so people can get to "forbidden" areas, people in restricted areas where it's unsafe like Webster's Overlook cliffs, and hundreds of other things that common sense and respect for the land/water should keep people from doing. I found it funny some of the stupid things they told me people do that they have to take care of. In the winter, they finally get a little break from that (except ATVs, they increase due to low water) so they can dedicate time to more important things like managing 26,000 acres of forested land, managing the hunting program that allows the public a FREE hunting opportunity, managing the fisheries improvement programs of which we are all aware. BTW let me list the programs they are involved with to HELP improve our fisheries.
1. Tree Cutting program cut almost 400 trees last year with a lot more slated for this year. I challenge anyone to say they haven't helped everyone catch more fish and find another group that has set out more fish habitat than the guys that have cut trees with us this past year? These weren't cute trees btw the vast majority of these trees were 40ft and taller!!
2. PVC Deep structure program
3. Grass planting program
4. Kids Xmas Tree program.
5. Bouy lights program (pending approval and funding) and several others in the works and others that I have probably forgot.
If you have participated in a volunteer project and you are a team leader of a project you hear alot about keeping up with our volunteer hours. The Corps has kept up with all the volunteer hours to HELP get an increase in their budget and put it towards improving our fisheries. They are really doing everything they can with what they are given on the fishing front. They told
me the Allatoona Lake Project accounted for about 850 volunteer hours last year for ALL the volunteer projects around the lake. Nearly 600 of those hours were on fish attractor/habitat improvement projects!!! About 60 of those hours were from ONE Corps Ranger on his own time and he doesn't even fish but once or twice a year.
Now about boat ramps. Back in early November I formed a committee to help instigate extending a boat ramp. I chose Red Top because it is a state ramp and it is easier for the state to possibly pay for the ramp extension vs coming out of the corps budget or our pockets. The problem with that solution was Red Top at the time looked like a great candidate to extend but if you look at it now you can almost walk to the island in front of it. We did understand that the parking is an issue at Red Top but I had connections with Red Top due to working with them on previous projects and I simply didn't have the time to visit Gatewood and negotiate with them. We were thinking in the interest of time lets get A ramp extended then we can work on other options. Between there and now there were lots of twists and turns in the road and there was me and the committee really trying to get us a ramp in place BEFORE our blockhouse ramp closed. We were simply told that to extend a ramp correctly we need the end of the ramp exposed so that support can be added. That is why a ramp hasn't been extended yet. If you extend one that is high and dry and 5ft out of the water your not gaining much ground if you make the ramp extension part 15ft. If you can't support the concrete slab that you pour your opening yourself up to more problems down the road if the concrete were to break because of lack of support when a 80ft yatch decides to launch. Of course now with the water level staying fairly steady we can slow down on this project some as we will more than likely never have to close blockhouse. Having said that we are still going to try to push for getting another ramp extended and we are in that process right now. Allatoonabass.com raised the money for ALL of the concrete through the rod drawings/lure bag we had and also through the Cookout donations for food that we have left over. So the concrete is paid for and the Corps has been very supportive and has donated the forms, rebarb, labor and equipment and misc other items for this project.
Now there is a question stating that I support the Corps because they help my business. While that may be true indirectly if you call fish habitat helping my business, but do understand that if the lake were to close that would HELP my business. So having said that, why would I volunteer my time and go through all the hoops as President of the Ramp Extension Committee to help
get a ramp extended?? Makes very little sense to me. I DON'T consider myself a selfish person, but I do feel that everyone should have access to the lake that has paid their parking passes and have purchased a fishing liscense just like myself.
As you can tell from above I took some notes. Bottom line, us complaining does nothing to help, only exacerbates the problem by instegating anger. CALL THE CORPS OFFICE at 678-721-6700 and find out the facts about where the money goes like I just did and see for yourself. It's all public info, after all and there is a DNR number you can call to turn in poachers and other violators and it is 800-241-4113 (GA DNR Turn In PoacherS or "TIPS" line) so we can do something about it when we are on the lake and see someone breaking a law or acting in an unsafe manner. Put it in your cell phone now just so you have it. They are individuals just like me and you and want to do the right thing. Call them yourself and ask the questions I did and find out why they do what they do.
Also, I asked Jim Hakala, and had Cardnut as my witness what is the goal of the fish tagging study as we were netting fish this past spring? His reply to me was "I would like to see everyone catch much more consistant 3lb spots". Dude I am so for that!!! With more consistant 3lbers that means more 5lb spots for everyone! Also, ask any of the tree cutters if they didn't enjoy being out there cutting trees or working on the XMAS tree program and volunteering their time so that EVERYONE can throw their bait at some fishy cover. That was some of the funnest times I have had on the lake and I think everyone that participated would agree!! I don't think there is a soul on here that doesn't feel good about volunteering and not being selfish with their time if you have time to burn. We certainly won't put people down that don't or can't volunteer, but please don't put us down for volunteering and helping improve our lakes fishing habitat if we choose so that everyone can enjoy it.
BTW, How many of us were on the lake this Saturday morning?? Did any of you see a CORPS official on the lake??? I did and he was VOLUNTEERING his time on his OFF day doing the XMAS Tree program to help OUR fishing for KIDS. Again doesn't mean he wasn't there if you didn't see him?? He said at least 4 bass boats came by and watched these guys work so somebody saw them. Here's a pic.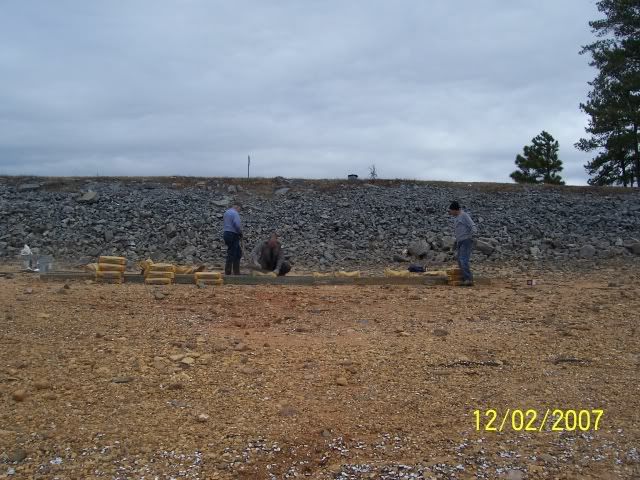 I hope everyone appreciates this post and take it for what it is. I really want Allatoona to be a GREAT fishery. I really really love this lake!! She can be stubborn but she can also be very generous. While it may not ever be better than Lanier but any little thing helps. For those that have volunteered their time THANK YOU!!!!! For those that haven't please join us if you can. It's a great opportunity to make friends and share experiences and spend time in the outdoors.
If this has helped anyone have a better understanding of the CORPS then it was worth the 5hrs that it took me to compile all of this information.
All the SPOTS!!
Mike