Post by Mike Bucca on Mar 12, 2009 0:07:07 GMT -1
Water Temp 57-62
Water Clarity clear to stained
Water Level 4.57ft low
Fishing is pretty good especially on numbers, Water is mostly stained in the vicinity of the dam area. The rest of the lake is fairly clear.
I have spent the last 3 days on the water pretty much sun up to almost sun down. Things are changing daily as we are transitioning from Post Winter to Pre Spring. There is always a lull for me between the two seaons which scatters the fish out a good bit before they concentrate again.
Mon and Tuesday the hybirds were going NUTZ at first light. LIterally I believe we had a SOLID MILE of boiling hybrids on top for atleast an hour and a half to two hours. At the end of both of those topwater marathons I was POOPED but my guys had a blast on Monday! I started with a fresh Sammy 100 and by the end of day 2 I had to change out my hooks and I had a one eyed sammy.
See video.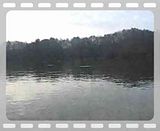 The bass fishing part of Mon and Tuesday after the hybrid marathon was on the tough side since it was just prior to the full moon and I was trying for pigs. We did get quite a few jerkbait bites up above victoria in the short pockets. I also got three bull shad spots yesterday and all three were in the vicinity of 3 lbs (See hockeyruss's report). I did manage one big striper during the search for the big heads.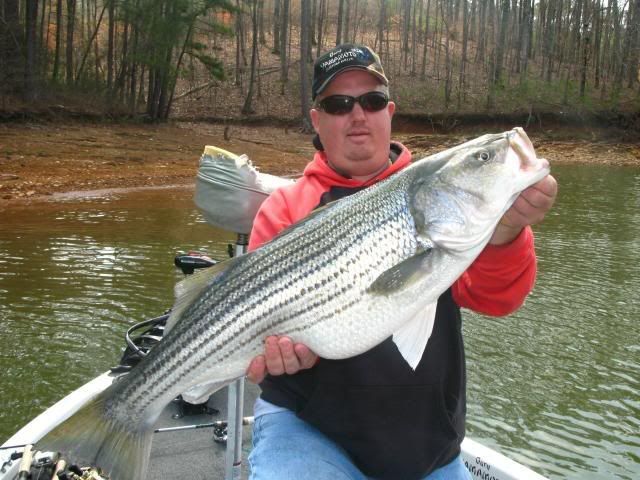 Then today with the full moon I had a trip with Bill and we were planning on a three peat of the Hybrid fest which was a total dissapointment. After today I am totally convinced the full moon has an effect on the hybrids. I've seen it too many times especially in the summer where prior to a full moon they are balls to the walls then the day of the full moon POOF. Anyway, While we waited for the no show hybirds Bill caught this nice spot on a wounded spook.
Shortly after we saw a trickle of hybrid activity and we got 2 hybrids on topwater then 3 more on jerkbaits. After leaving the no show hybrids we went searching for spots. I went back to an area that I fished on Monday which was FULL of bait. It almost looks like they were spawning in the back of the cove there were so many shad, but on Monday there was very little fish except for one lone 3lb spot caught on the bull shad. I figured surely after 2 days some fish have found all of the shad and I was right they were exploding on the shad back in the shallows. Bill got 10 fish on 10 consecutive casts on the jerkbait then caught another 10 more throwing at the boiling fish.
Then right before we left I went to one of my ace in the hole spots and Bill had a 4lb head on his wounded spook and lost her. He casted about 10 more times and lost a 3lb spot in the same hole. After a few more casts he changed to another rod with a jerkbait and numerous casts with no luck. I threw the bull shad in there and got the 4lb Head on the first cast oops!!.
Throughout the rest of the day after I dropped Bill off I threw the bull shad a good bit and got a few decent spots in the mix, but the highlight of the day was by far the jerkbait. Ricky K and I kept texting back and forth keeping in touch and Ricky found 2 good schools of fish busting shad and invited me to play (thanks Ricky). One of the schools Ricky found it kept everything we had to keep the boat from blowing us into the school of fish but we both got atleast 10 fish a piece out of our last school which was a mixture of whites and spots all on jerkbaits. I was using a pointer 100 in Table Rock Shad and Ricky was using a Flashminnow 130 (unknown color??). BTW Ricky how many small fish did you get on that "big" jerkbait

. The jerkbait bite is doing very well. They key ingredients here is relatively short pockets with shad in them. If you see shad it's not a matter of IF but when it will hold fish so keep checking back often to those areas.
Mike